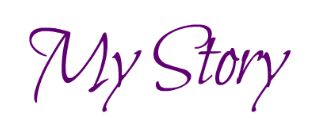 I was the first girl born in my family.
My parents had a special needs son and a baby who died at birth. I arrived into a home where there was a lot of emotional pain, sadness and fear. My birth had brought light, beauty and hope, all at once.
In the eyes of my parents I was perfect. I didn't know it then, but this thing about being perfect would become a  big weight for me in the years to come.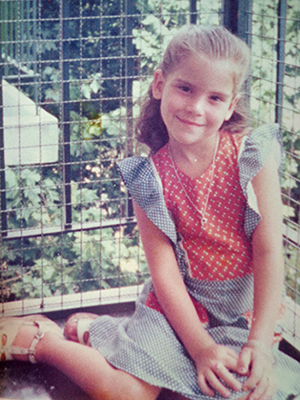 I was a "good girl." I was naturally sensitive and intuitive. I could feel things even if people didn't tell me. I spent a lot of my emotional energy making sure my parents were happy, especially my mom.
There were a lot of emotions in my house. The presence of my brother was a blessing and many times it felt like a curse. It wasn't easy to live with a person like him, mostly for what he represented to those around him. He needed to be changed and fed, not just for a few months, but for life.
Everything was centered around him. I knew it was hard for my parents, particularly my mother.
However this need and desire to "make it all better" left my heart in pieces. I tried to bend and twist into a million directions to "keep it all together" and "make everyone happy." In the end it tore me apart. I put so much pressure on myself.  Slowly I started to learn to put myself last.
I pushed myself to do better. I thought that if I work harder my Mom would be happy. I did well in school. I made sure not to bring trouble home. I didn't even bring friends home, partially because I was scared that they would laugh at me and my brother, but also because I didn't want to cause more trouble. My room was tidy. My clothes clean. I thought that if I did all that, if I was perfect, it would make everything better.
It didn't.
My mom remained unhappy. Nothing I did could change her feelings or reactions. She would yell at everyone in the house. Sometimes it got to the point that I was scared for my own life and the lives of my siblings.
From this I learned that in order to be a powerful woman you had to demand it. You had to fight life, struggle and yell in order to be seen and heard.
This made me feel desperate and out-of-control. I didn't know what else to do. I didn't want to ask for help and I never learned how to.

Relationship with my Body, my Beauty and my Worthiness
It was so hard for me to understand why those around me couldn't be happy, especially after all I was doing.
There was a hole in my soul and I filled it up with food. Food became my "best friend," a way to feel I was in control over the chaos inside and around me. This affected my beauty. I would look in the mirror and for the first time I started to see everything that was wrong with me. I felt fat, like my thighs were the size of Texas. I had pimples all over my face. I felt ugly.
I remember being obsessed with my body and I developed bulimia and body dysmorphia.  I felt so alone, no one seemed to have time for me or cared about how I felt.
It wasn't just the messages in my own head.
From magazines, media and my Argentine culture, on top of my father owning a lingerie store, I was constantly exposed to how women were judged based on their physical beauty. I learned that a woman's value can be measured by the length of her hair, the size of her thighs and the smoothness of her skin.
Being beautiful, can be one way to access power as a woman in this world.  I learned that lesson as I struggled with eating and my body.
All I wanted was to feel loved as I was. I was desperate for true connection.
The only way I felt like I could  belong was to wear this mask and look "pretty" for the outside world. However, under it all, at the core of my truth I felt completely abandoned.
Despite my struggles, a side of me was powerful and fearless. I learned this through the adversity in my home.
This power I found though, didn't really ever allow me to give myself permission to let people show up for me. Because in my mind, to be powerful, you had to do it alone.
This left me extremely sensitive and susceptible.
My father used to make jokes about me and my weight because our culture in Argentina is obsessed with skinny people. If you are not skinny, you are not beautiful and you have no value.
When I told him how much it hurt he would say I was being too emotional. He made fun of my mom too, which caused her to get really mad and look like the "bitch" because she would get pissed and yell at him.
So I learned from him and many men in my culture that women were made fun of and were disrespected if they didn't meet expectations. It made me believe that if you were a woman you were less.
Seeing this in my family dynamic and my surroundings made me feel that as a woman, I could never stand in my power (even though inside I felt so full of power.)
In my teenage years I learned that being feminine wasn't safe. I remember walking in the streets of Buenos Aires. Men would make comments about my body, how much they liked my butt or how they desired to touch me.
All of these moments taught me that in order to be a woman in this world, I had to toughen up.
….so I did.
I became really tough, aggressive and angry. Oh, I would make sure no one would mess with me. I felt powerful, I would tell it like it is.
I transformed from the Good Girl into the Bitch. I was tired of feeling taken advantage of. I was tired of being a victim.
I closed my heart and for a few years I fought with the world.

The beginning of the end
In my early 20's I used my power and my beauty to influence and get what I wanted. I got hired at a very reputable company and got paid very well. I got married. I was a great example in my family and everybody loved me. I bought an apartment and I was ready to start a family. My Good Girl was in her glory again and for the first time I was being seen.
Of course! I was following all the rules.
Yet deep inside something was missing, there was still a hole in my soul.
I had everything I was told would make me happy. Yet I still wasn't…
What was wrong with me?
I started to ask myself this question on a regular basis, and one day I got fired from my corporate job for laughing (yes no kidding), even though I was doing a great job.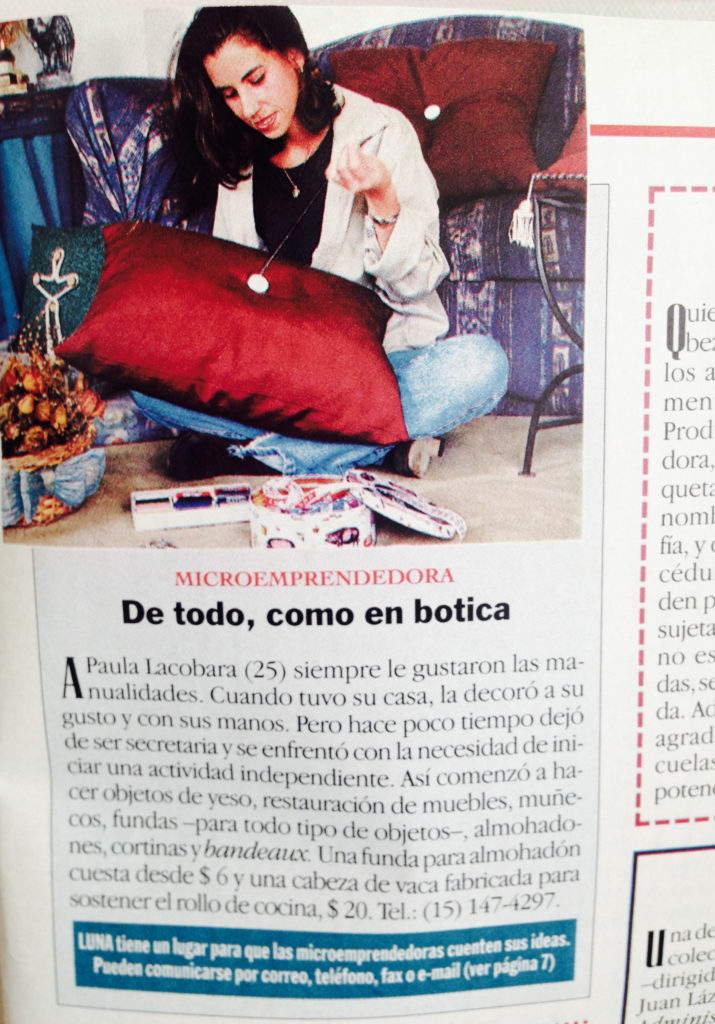 I was so pissed about this because it was so unfair that I swore right there and then I would never go back to corporate. And so, my first entrepreneurial project was born: I became an Interior Decorator. I was even featured in a national magazine.
My husband at the time on the other hand, was so disappointed in me for being fired and soon after he woke up one day and decided that our marriage was over.
My "perfect" world started to fall apart. I was devastated, I felt like a hurricane had just passed over me and I was left with nothing. I felt I lost complete control of my life. I had no job, I had no possibility of building a family of my own. I felt horrible and unworthy in every way.
My eating disorder returned. It was my way of trying to keep it all together and it also showed the world how unworthy I felt. I was drinking every night (I never drank before.)  I was a mess. My neighbors had to bring me food because I wouldn't eat. I was sleeping around with men in hopes of feeling validated.
My marriage was the key to my womanhood according to my culture and the loss of it felt like a big failure and the end of my worthiness as a woman.  My family didn't know what to do with me.
I was 25.

My trip to India
One day I met a spiritual teacher who invited me to go to India. I decided to leave everything behind and went there for a month. I had nothing to lose at this point, I was desperate. Deep inside I knew there was something big waiting for me, and I was right.
I arrived to the south of India for the celebration of the Divine Mother called Navatri. It was very festive and colorful there and I felt the feminine being revered in every way. It was beautiful.
I woke up every morning to meditate and learned about discipline and devotion. I stayed at an Ashram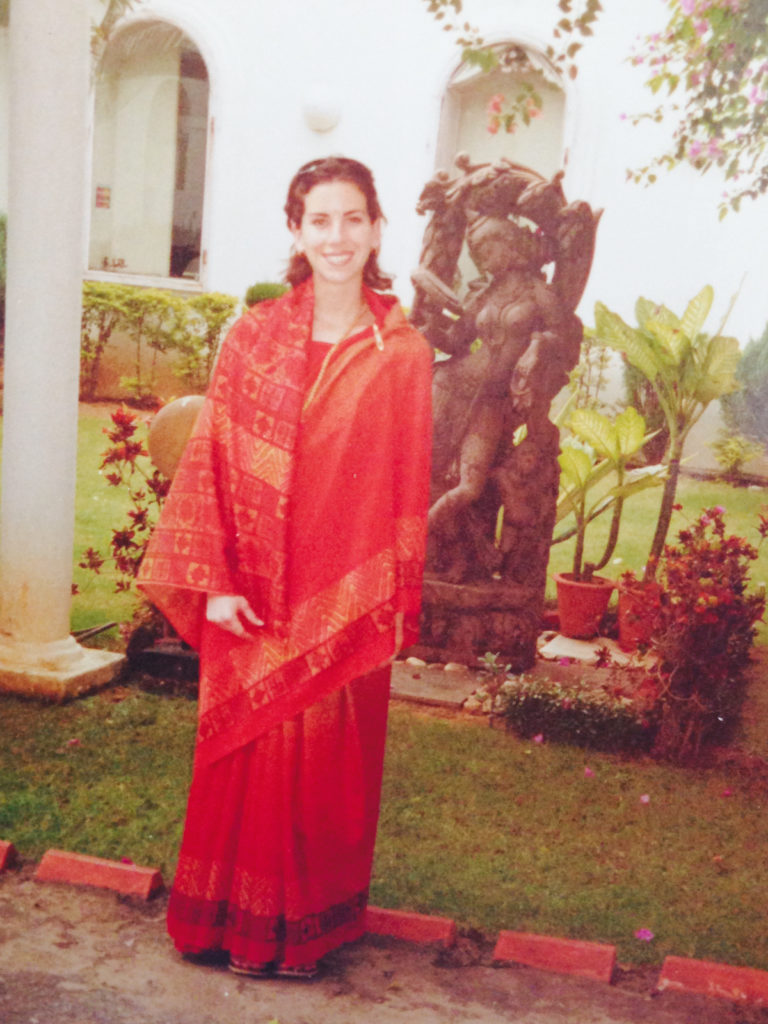 where there were hundreds of people from all over the world. It was fascinating because I got to meet truly amazing people and I had deep and healing conversations with all of them. I felt I was inside the movie Eat, Pray, Love.
My favorite part was to volunteer in the kitchen where I would gather with other women to prepare and cook the food. This was one of the highlights of my whole experience, as I was taught to recite mantras (sacred chants) as a way of blessing the food that would go into our bodies. I learned how important it was to make our bodies holy and sacred.  
This trip to India opened my eyes to a completely new world. I was able to realize the truth of who I am and felt connected to a higher power in such a deep way. This was SO powerful for me!
For the very first time I also understood that power didn't have to be about beauty, anger or control. I didn't have to be the bitch or the victim in order to feel strong. The power of the feminine I experienced in India was very different from the concepts I had learned  growing up.  
It was a true power, that came from my connection to God.  I felt loved, celebrated in my femininity and I was immediately healed.
Fast forward 3 years, one day my sister called me from Miami. I was living in the middle of the woods in Argentina building my healthy cookie company, my second entrepreneurial project in my tie-dye dress.
She was very homesick and wanted me to come visit her. I came to America with one suitcase and no money. Somewhere deep in my heart I knew this was going to be my new home.
Miami was my first stop, then New York City.

Meeting paradise and my Wild Woman
Miami was glorious. The sun, the white sand and warm beaches ignited something really powerful within me. I felt free to be who I desired to be. It was so liberating.
I met my Wild Woman for the first time. I felt open, sensual, fun and excited about life. I would dance salsa, meet people from all over the world, I was in heaven! I started to receive a lot of attention from all different kinds of men and for the very first time in my life I allowed myself to admit how much I enjoyed it.
I soon learned I was tapping into a power I didn't know before. I was fully sexually alive!
Since this was a new power to me and I didn't know myself in this way or my boundaries, I got into a situation with a spiritual teacher who used his power in the name of healing to force me to have sex with him. My guard was down since I thought I was in a safe community with people I trusted.  I didn't know how to stop it in the moment. It was against my will. 
After this episode I felt deceived, scared and ashamed of myself and my body.  Slowly, I shut my Wild Woman down and fell into the Victim.

My new life in New York City
Right at this time I met a guy from New York and soon I moved there with him. He came from a very conservative culture, which for my Good Girl felt safe but for my Wild Woman was prison.
He helped me pay for rent and school to get the ball rolling, as New Yorkers would say.  I felt protected by him and I was very grateful to him but also felt indebted.  I didn't know how to receive. I didn't know how to ask for what I wanted or to accept help. I was used to doing everything on my own.
My biggest fear was that if I received it would come with a price.
My relationship with him became toxic very fast. I found myself being resentful towards him  because I didn't feel I could be fully myself with him. Ultimately I felt powerless around him.
What felt like protection at first, ended up in a power struggle. And like it happened before when I felt attacked, the Bitch came immediately back out.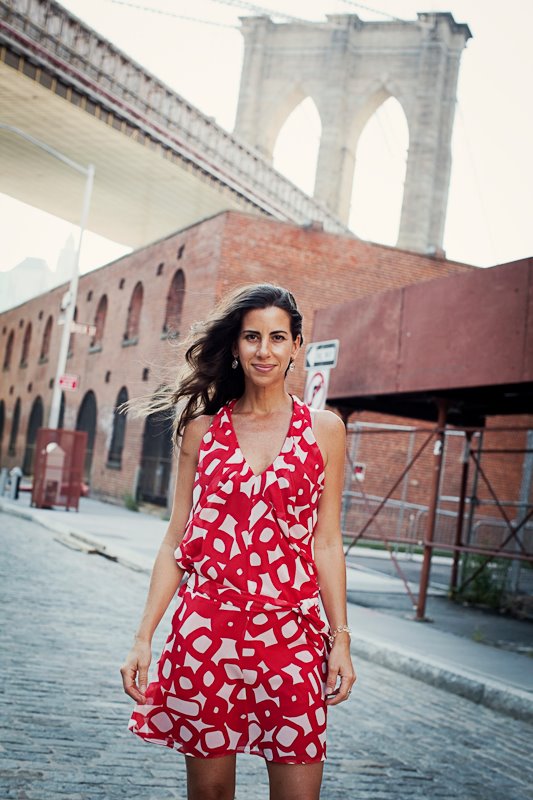 So one day the Bitch and I decided to leave the relationship. I found a new apartment and moved out.
After this roller coaster ride of going from Good Girl to Victim to Bitch and my Wild Woman trying to grasp a full breath of air in between, I knew I needed help.
I wasn't good at receiving, remember? I didn't want others to see me vulnerable because I thought it would be a sign of weakness and I was afraid to become a target…
I was jaded and when I looked in the mirror I couldn't see myself. I felt lost and helpless inside an armor of protection.
In spite of my fears, I reached out for support and I joined a mastermind group of powerful and loving women led by a masterful coach which helped me develop my feminine power.  Wow, it completely transformed my life.
Receiving support opened up a new world for me. For someone who's used to do everything on her own, it was so refreshing and powerful to receive and welcome the help of others. For the first time things had a sense of ease and not struggle.
In less than a year I met my now husband, the love of my life. He taught me how powerful it can be to feel truly loved and appreciated for who I am.

My life today and beyond…
This new level of confidence allowed me to quit my job at the spa that I was working at for seven years. I opened up my own skincare and beauty coaching practice in New York City which then turned into the Empowered Woman Coaching Business and Community I have today. This was all because of my desire to serve women at a higher level worldwide who struggle like I did.
Today I travel the world with my husband and I work from anywhere that inspires me. I spend a couple of months in Argentina visiting my family and friends every year, all while my multiple six-figure business keeps growing and expanding.
I recently did my first workshop in Buenos Aires where I taught women how to connect with their femininity in a powerful way and receive the life of their dreams. I also just came back from a retreat I hosted for a gorgeous group of women who are in my Empowered Woman Mastermind Group Coaching Program in Isla Mujeres, Mexico that was magical.
Looking back at my story I am astounded at myself because I've been through so much.
And let me tell you, it might have been my Sicilian genes or my Argentinian stubbornness, who knows. The truth is that I made things happen for myself. I've invested a lot in support and mentors that guided me and showed me the way to my truth.
It wasn't only that. It was and still is, my ability to say YES to myself no matter what.
Most of my life I felt alone. I felt weird and awkward. I rarely had the right thing to say at any given moment and felt like an alien. I was shy, felt constantly self conscious and I worked really hard to fit in.
My soul knew its destiny, my humanness didn't quite get it and I had to go through A LOT to finally accept myself fully and unapologetically. This is our true power as women.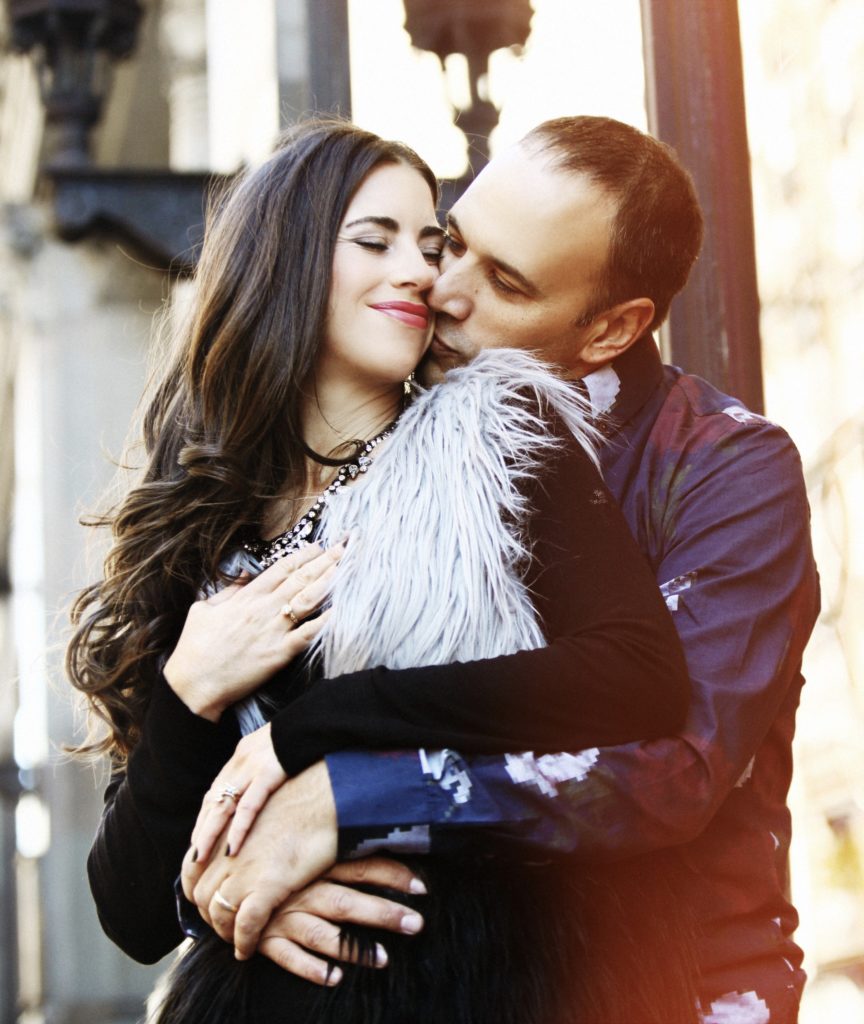 Today I live in New York City and I have an amazing partner, my husband Rob with whom I share my power as equal. He doesn't feel intimidated by my power, he is turned on by it.
All aspects of me feel integrated and this makes me feel empowered as a woman in the world. And when I don't, I now know how to bring myself back into alignment.
Being an Empowered Woman means choosing to live a life of love and freedom. To open your heart and honor your truth in every way, all the time. The fun thing about this is that when we honor ourselves as women, we honor everybody else around us.
Through my journey I developed a process to bring myself back into feeling empowered when something throws me off balance. This took many years of development that included me working on myself and making high financial investments.
Today it is my passion to share it with many women worldwide.
I work with clients through private coaching over Skype or phone and group coaching programs. I also teach this in transformational experiences that include private day intensives in different locations around the world and retreats in Mexico.
I'm so passionate about teaching women how to come back to their truth and stop working so hard or creating so much chaos around them in order to feel loved. Instead look within, know your truth and show up powerfully in every situation in your life, as the Empowered Woman you were born to be.
Your Empowered Woman is waiting to be unleashed.
It would be my honor to guide and assist you on this journey.

---
Paula Lacobara is a women's empowerment coach who specializes in supporting women on their journey to becoming a feminine and powerful woman in the modern world. Paula is mostly known for helping women feel confident and fully connected to their Empowered Woman within. She guides women individually and in groups on the path to becoming fully integrated, teaching them how to receive abundantly and step into their power in every area of their lives.
She takes a stand for women fully honoring their beautiful, wild and powerful selves. Today, she's also passionate about guiding ambitious women to apply feminine principles in their business so they can live with passion, purpose and create authentic relationships and long lasting success.
Originally from Buenos Aires, Argentina, she moved to America 14 years ago to follow her dream to live on purpose and created a successful multiple 6-figure coaching business.
She travels around the world, working with clients and sharing her message about women owning their power and femininity unapologetically.
---